This page is inspired by Derek Sivers and details what I'm focused on right now.

Updated on: 09/10/2018

I recently relocated my family to Georgia. The trees are nice here. We are house hunting, which is becoming quite the task.

I am reading Miss Peregrine's Home for Peculiar Children by Ransom Riggs. The first thing that struck me? There's a prologue.

I have signed an agency agreement with Travis Pennington of The Knight Agency. He seems like a cool guy. I'm excited!

I've been playing with the idea of rewriting my Young Adult Dark Fantasy as a Middle Grade story. We'll see.
Powered by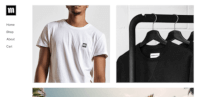 Create your own unique website with customizable templates.